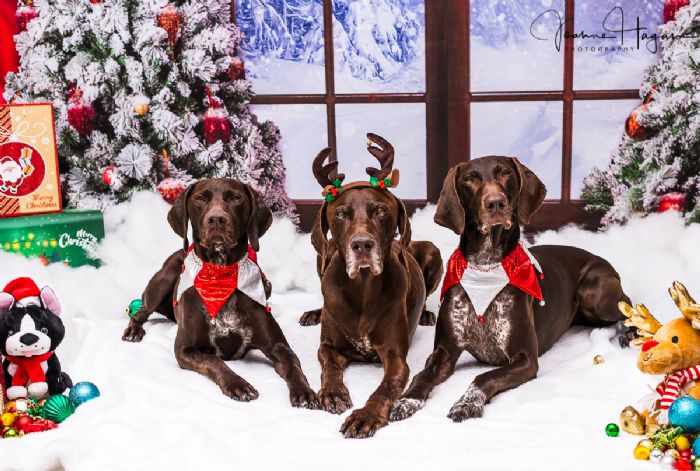 About Fourjays German Shorthaired Pointers
We started in the breed in 1997, with the purchase of our first GSP, Jake, but our love for the breed began prior to that, with Jeremy's family owning a much loved rescue GSP called Sam, who was a happy go lucky boy, living a great life on the family farm. It was when we saw the "roadtest" of the GSP breed on the tv show "Burke's Backyard" back in the late 1990s, that we decided this was definitely the breed we wanted to have in our lives and thus Jake came bouncing into our home at the very end of 1997.

We have since immersed ourselves in the world of canine dog sports, and have competed successfully with numerous of our dogs in conformation shows, obedience, rally-obedience, agility and jumping trials, flyball, gundog working tests/retrieving ability tests, retrieving, tracking trials and endurance tests.

Our small kennel is home to, or has produced: A Triple Champion (also Australia's most titled male GSP in the breed history); Two Dual Champions (conformation and tracking); Two GSP National Obedience Best in Trial winners and State Obedience trial title holders & winners; An All Breeds Runner Up Best in Show winner, multi Best in Group (Group 1), runner up in group (Group 2) and in-show/group placement winners, in the show ring; Australia's first Rally Obedience titled GSP and several other obedience/agility/rally-o titled dogs and rough shooting companions. 7 Australian show champions and a New Zealand Champion, who went on to sire numerous litters over there and have a large influence on the breed in NZ.
All this - from only 5 carefully bred litters :)
In our early years, we also participated in sledding training as well as in numerous obedience, agility and flyball demonstrations in the local area including at major events such as basketball and football games. Always a hoot because back then people didn't seem to know what a GSP was and thus Jake was always mistaken for being a brown Doberman! We had a lot of fun educating the public about the joys of this wonderful breed.
Our main breeding focus is on maintaining the temperament, health and versatility of this wonderful breed and all our breedings are done with this in mind. We do not breed just to sell puppies. All our litters are planned well in advance and we often have people on our waiting list willing to wait the time until we have our next litter.
00008791 Visitors